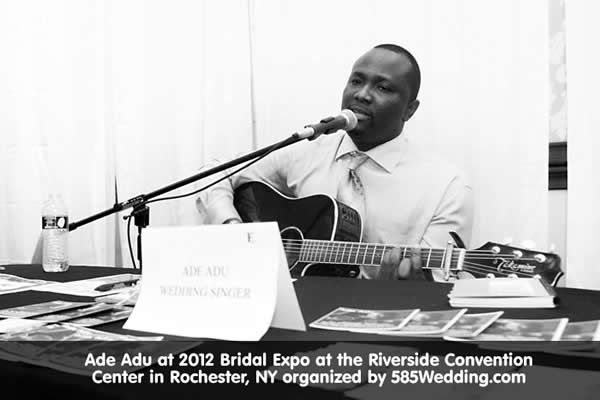 When planning a wedding, your main objective is to give your guests a memorable experience. As a wedding singer I have been told by some that I am the best they have ever heard at a wedding. I typically perform at the reception during the cocktail hour as the guests have dinner providing easy listening live music for the guests enjoyment right before the DJ starts. The bride and groom tend to come up to me afterwards to let me know that people said great things about my performance. I have also performed during the ceremony playing songs of the bride's choice at the MOST AFFORDABLE rates around. CALL/EMAIL today to book your wedding or event! You won't regret it!
Pricing and Availability
For weddings I typically charge $150/hr with a minimum 2 hours including travel/mileage expenses.
The are NO HIDDEN COSTS just a DEPOSIT to reserve the date
Setup and Take Down is free
For more information, please fill out the contact form or email adeadumusic@yahoo.com
Be sure to add your email address and date and location of your event.
 Sample Set List
Tonight Tonight by Hot Chelle Rae
Say Hey(I Love You) by Michael Franti
Airplanes by B.O.B
Just The Way You Are by Bruno Mars
Forget You by Cee-Lo Green
Better Together by Jack Johnson
Why Georgia by John Mayer
Message In A Bottle By Sting
What I Got by Sublime
Everlong by Foo Fighters
Peaceful Easy Feeling by The Eagles
Ain't No Sunshine by Otis Redding
Give me One Reason by Tracy Chapman
Hey Jude by The Beattles
Let It Be by The Beatles
No Woman, No Cry by Bob Marley
I'm Yours by Jason Mraz
1-2-3-4 by The Plain White Ts
All For You by Sister Hazel
Marching Ants by Dave Matthews Band
Ring of Fire by Johnny Cash
Mrs. Robinson by Simon and Garfunkel
Happy together by The Turtles
Horse With No Name by America
Sitting on the Dock of the Bay by Otis Redding
Time of Your Life by Green Day
Barely Breathing by Duncan Sheik
Brown-Eyed Girl by Van Morrison
Sweet Caroline by Neil Diamond
Nothing Else Matters by Metallica
California Dreaming by The Mamas and the Papas
Sweet Home Alabama by Lynyrd Skynyrd
No Such Thing by John Mayer
Sexual Healing by Marving Gaye
Faith by George Micheal
Hands Down by Dashboard Confessional
With Arms Wide Open by Creed
Cecelia by Simon & Garfunkel
I Shot the Sherriff by Bob Marley
Redemption Song by Bob Marley
Dancing in the Moonlight by Van Morrison
Santaria by Sublime
Drive by Incubus
Margaritaville by Jimmy Buffet
Wild World by Cat Stevens
Save Tonight by Eagle Eye Cherry
Many More...